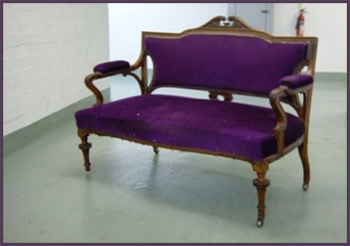 WELCOME
We are a London-based Professional Upholsterers and Soft Furnishing Fabricators with 28 years of experience in the industry. From the traditional to the contemporary, Barnett Upholsteries can provide an experienced comprehensive service for you or your company.
LOOKING FOR A FABRIC, VISIT OUR FABRIC SHOP
We are stockist and suppliers for a comprehensive range of fabric and leather collections from leading manufactures, importers and suppliers from around the world.
Whether it's an upholstery project or fabric requirements you wish to discuss we look forward to hearing from you.
For all enquiries or to get a quotation please contact Sara Carter; by email s.carter@barnettupholsteries.co.uk.
To discuss you reqirements in person, please pick up the phone and call 020 7622 9347
You can also contact us through our contact us page and complete the on-line form.
_____________________________________________________________________________________
UPHOLSTERY COURSES AND CLASSES IN LONDON
Built on a foundation of 28 years of experience in the upholstery industry, Barnett Upholsteries is also a leading provider of upholstery tuition classes.
Our upholstery courses take place in a fully-functioning workshop studio environment at Battersea in Central London.
We are very serious about our work, yet at the same time, Barnett Upholsteries is a fun place to learn new skills. Against this backdrop, students are welcome attend our tuition classes to broaden their skills and share in the full benefit of our vast experience and outstanding expertise in the craft of upholstery.
We offer a range of upholstery classes to cater for a wide range of skill-sets, from the absolute beginner, right through to the advanced upholsterer. We take great pride in developing your potential, so have a look through our unique range of upholstery courses and then let's get started.


| | | | |
| --- | --- | --- | --- |
| vcard / address details for Barnett Upholsteries (upholsteryclass.co.uk) | | | |